Long-time readers know that I do my newspaper reading online via the New York Times. In a throwback to a quieter time, I do subscribe to the San Jose Mercury News on Sundays as we like to peruse the articles and share witty banter about the headlines over morning coffee. In an interesting twist, I also receive the paper on other random days of the week . . . but I digress.
When I picked up the paper on Labor Day (Second Sunday?), the headline "Home Sales Raising Hopes" bravely attempted to be seen over the front and center HURRICANE HITS GOP main headline. What's this I thought, positive news about the housing market from the Merc? Really?
I have grown weary and wary of the Merc and its drumbeat of foreclosure of the week, gloom and doom, and reinforcing that real estate is local, and my market in Palo Alto varies just a bit from south San Jose. If you don't believe me, visit Altos Research and compare the chart for median home price over the last couple of years in these two cities. The results may surprise you . . .
The Merc got my hopes up with an intro and a couple of quotes from brokers saying they were expecting an upturn in sales in the Fall after activity was so low in the summer, and there is usually an upturn in the fall. There is some back and forth, and the article pretty much shot down the "fall uptick" conventional wisdom. Again, Altos to the rescue showing inventory and sales actually DO pick up in Palo Alto fairly consistently every fall before slowing down over the holidays.
To see the article on its entirety, click here to visit the Mercury online. For charts and stats galore, visit the Market Reports page on my website, now in Single Family and Condo!
Thanks for reading . . .
Tags:
2008 real estate market
,
home prices
,
Local information
,
palo alto home prices
,
palo alto market
,
San Jose Mercury
Economic Forecast - Finally, you can believe what you read in the newspaper
I have long been a proponent of Bay Area real estate, and especially that rare piece of level ground on the Peninsula where the laws of Supply and Demand exert the greatest influence.
Amid tales of worldwide stock market tumbles (US markets were closed today in observance of Dr. King's birthday), this little tidbit of sanity was embedded in an article in today's online San Jose Mercury News:
Stock slides: Stocks sank around the world today, as U.S. markets remained closed for the Martin Luther King Jr. holiday.

The most dramatic decline was in India. The bellwether Bombay Sensitive Index plunged 1408.35 points, or 7.4 percent - its largest ever single-day drop in points. The pan-European Dow Jones Stoxx 600 index continued its six week slide, falling 5.7 percent to 308.77 percent.

Yet among the spreading gloom, Silicon Valley is shining.

"Silicon Valley is in better shape than the overall U.S. economy," said John B. Sloven, director of the Stanford Institute for Economic Policy Research. "My overall assessment is the Silicon Valley economy is going to come through this pretty well unscathed."

Some facts to consider: Prices in Silicon Valley's wealthiest areas are holding up. Meanwhile, prices are dropping on low-end homes, increasing affordability. The region added jobs in December for the third consecutive month. Finally, the San Jose region is supposed to lead the state in personal income growth over the next few years.
The interesting point is that the falling prices for lower end housing makes things more affordable for first-time homes buyers. My personal experience is currently supporting this, as I have a couple of clients shopping for their first homes in the $600,000 - $650,000 range, and are seeing personal benefit as homes that were recently listed tantilizingly close to their range, but just out of reach, at $700,000, are now being reduced to under $650,000.
The amazing thing about this area is that the economy continues to reinvent itself, the economic engine continues to churn through economic expansion and recession, and housing remains a scarce commodity because we have very little land to build new housing on.
Not to sound self-serving, but it is a great time to buy real estate here in Silicon Valley, especially if you can scrounge together a 20% down payment and have a history of actually paying your bills. Prices in some areas are down, flat in others, and interest rates continue to be near historic lows.
Donald Trump recently announced that he is seeking investors for a fund that will invest $100 million in California real estate in the next couple of years.
If California real estate is good enough for The Donald, isn't it good enough for the rest of us?
Thanks for reading.
Tags:
bay-area-real-estate
,
Home buying
,
home prices
,
home values
,
mortgage mania
,
palo-alto-real-estate
,
real estate downturn
I want to underscore the importance of what Kevin is discussing in his post regarding statistics and the actual market activity that they represent. Because the neighborhoods in Menlo Park are not distinguished by ZIP code or city, which are two popular methods of segregating data, it is easy to draw an incorrect interpretation of what is happening there.
The Band-Aid fix that I have been using with my clients interested in Menlo Park is to explain the nature of the market, and then look at the market data for the upper two quartiles of homes only. Conveniently, the homes in the areas of Menlo Park East of 101 are all below the mean for the whole city, while those West of 101 are generally above the mean overall.
Scott at Altos Research sent me the following interesting bit of analysis of how an outlier can throw off the statistics for an area. It seems there was recently at home in Del Mar in Southern California listed for $76 million.
The Median home price is reflected here (Median = half the homes on the market are listed above this price, half below):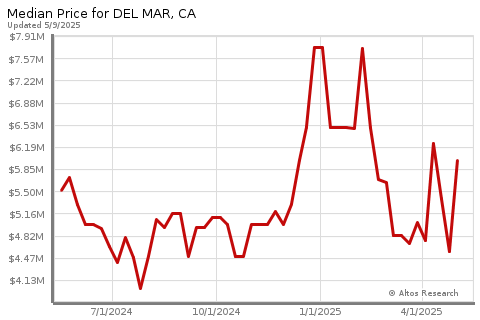 The numbers are weekly, and we can see how having a limited number of data points (homes for sale) bounces the numbers around. 
Maximum price for Del Mar during the same period: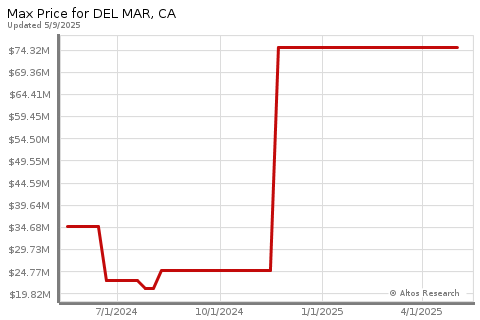 Gee, I wonder when that house was listed, and what the selling commission is?
And here is how the mean (average) price of homes in Del Mar, California is affected as a result: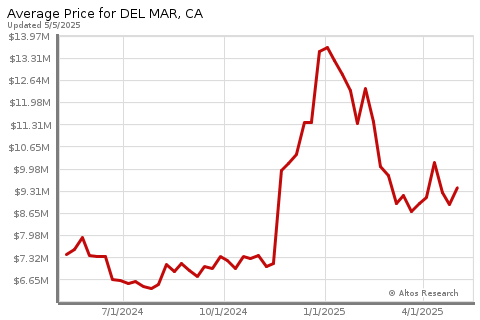 So, the average price of a home in Del Mar, CA took a nice bump, but does that mean that the house at 123 Main Street went up in value by over 50%? Sadly, no. Similarly, when and if that bad boy sells, the mean price of homes in Del Mar will drop correspondingly, but the value of 123 Main will not be affected at all.
So, to all of you living in on the Peninsula crying in your Cheerios because you read in The Chronicle that home values in California are off by 20%, RELAX, and ask your Realtor what is really happening with the market in YOUR neighborhood.
Rember, real estate is LOCAL, especially here.
Thanks for reading.
Tags:
Altos Research
,
average home price
,
home prices
,
home values
,
median home price
,
Menlo Park
,
palo alto home prices
,
real-estate-market
,
statistics