I want to underscore the importance of what Kevin is discussing in his post regarding statistics and the actual market activity that they represent. Because the neighborhoods in Menlo Park are not distinguished by ZIP code or city, which are two popular methods of segregating data, it is easy to draw an incorrect interpretation of what is happening there.
The Band-Aid fix that I have been using with my clients interested in Menlo Park is to explain the nature of the market, and then look at the market data for the upper two quartiles of homes only. Conveniently, the homes in the areas of Menlo Park East of 101 are all below the mean for the whole city, while those West of 101 are generally above the mean overall.
Scott at Altos Research sent me the following interesting bit of analysis of how an outlier can throw off the statistics for an area. It seems there was recently at home in Del Mar in Southern California listed for $76 million.
The Median home price is reflected here (Median = half the homes on the market are listed above this price, half below):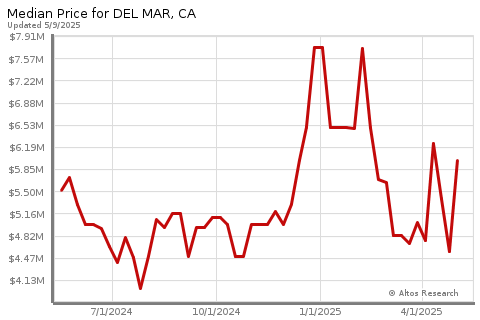 The numbers are weekly, and we can see how having a limited number of data points (homes for sale) bounces the numbers around. 
Maximum price for Del Mar during the same period: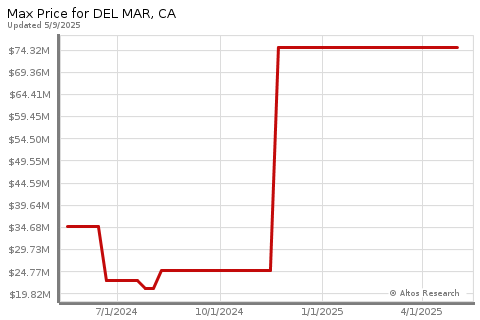 Gee, I wonder when that house was listed, and what the selling commission is?
And here is how the mean (average) price of homes in Del Mar, California is affected as a result: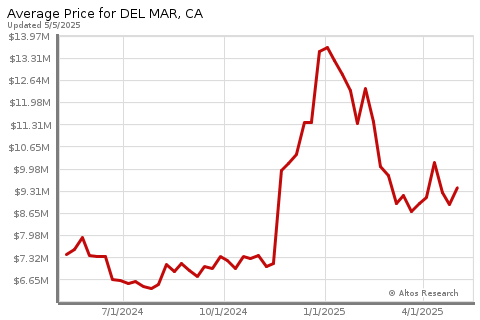 So, the average price of a home in Del Mar, CA took a nice bump, but does that mean that the house at 123 Main Street went up in value by over 50%? Sadly, no. Similarly, when and if that bad boy sells, the mean price of homes in Del Mar will drop correspondingly, but the value of 123 Main will not be affected at all.
So, to all of you living in on the Peninsula crying in your Cheerios because you read in The Chronicle that home values in California are off by 20%, RELAX, and ask your Realtor what is really happening with the market in YOUR neighborhood.
Rember, real estate is LOCAL, especially here.
Thanks for reading.
Share This
Tags:
Altos Research
,
average home price
,
home prices
,
home values
,
median home price
,
Menlo Park
,
palo alto home prices
,
real-estate-market
,
statistics